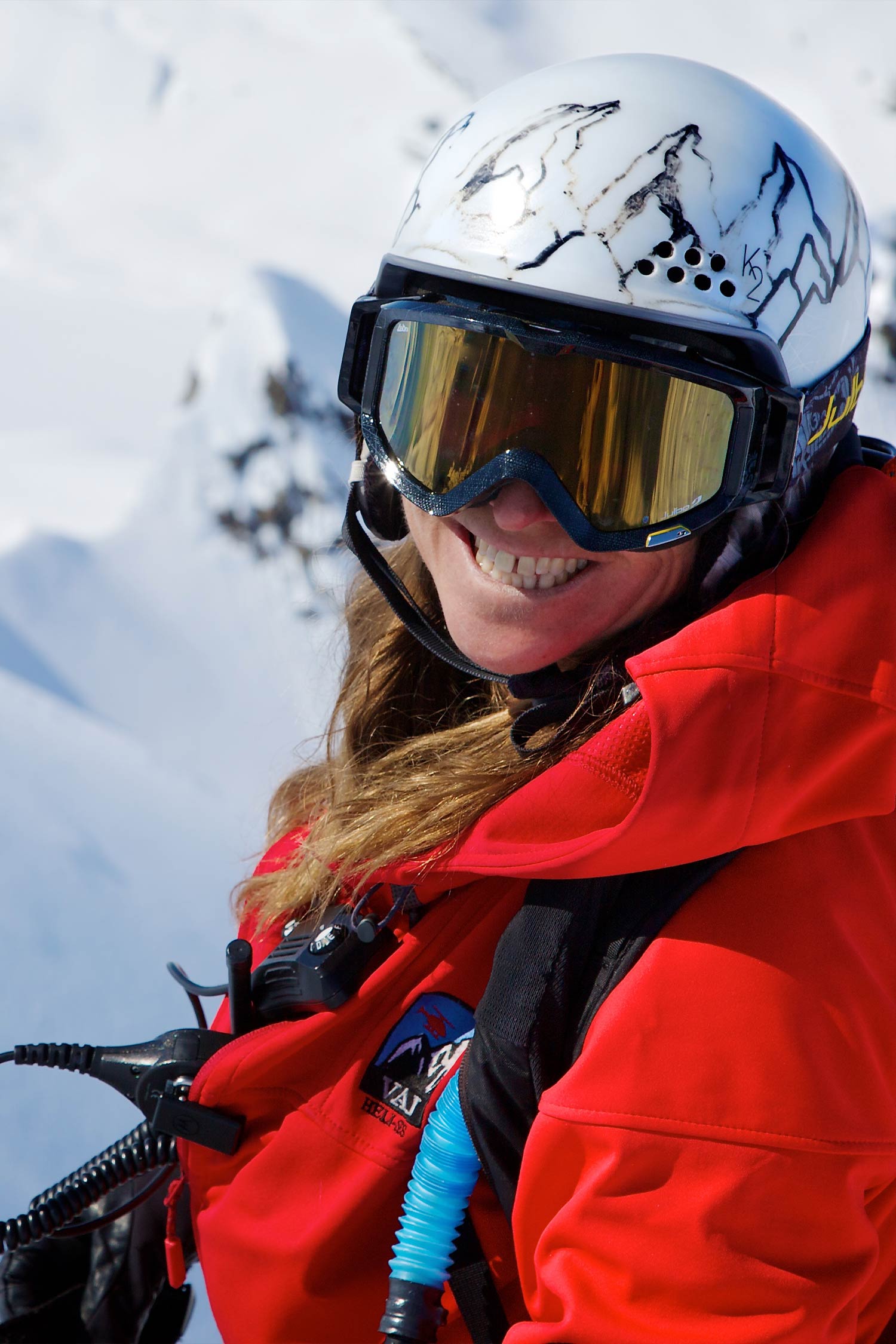 (Living Your Passion LYP) The list of people I want to talk to is huge and while I want to talk with human beings from all over the world, about things I don't even know exist, this week we will hear from Kirsten Kremer.
Kirsten lives in Chickaloon Alaska with her husband Tim Stephens when they are not traveling the world. A well know ski guide, mountain guide and whitewater guide Kirsten chases her dream like few others.  She is an EMT, Swift Water Rescue and Avalanche Level III Certified, has first ascents in India's Karakoram Range, skied off the summit of Denali and won extreme skiing competitions.
Kirsten has worked safety for film productions, the night shift on a highway project (think harness, ropes, roadside cliffs, big rocks and at night).  She has paraglided off the Augille de Midi, dipnets for salmon and began heli ski guiding in 1996 – hired by Doug Coombs.  On top of her many accomplishments, Kirsten's laugh and smile are infectious.
Hi Kirsten – Thanks for taking the time to talk with us, we do appreciate it.
Your love of the outdoors and adventure seem to go back to your early years.  Did you camp, climb and ski as a kid?
I grew up in Southern California in the Inland Empire which is basically East LA. Our family vacationed at Lake Powell every summer for 2 weeks. We had a camper that my Mom and Dad stayed in and the kids got tents when we were old enough to get kicked out of the camper. We had a boat. My brother and I spent a lot of time jumping off the sandstone cliffs and swimming back to the boat. My parents would help spot the landings for rocks with the boat and Lance and I would scramble to the cliffs and push ourselves to jump bigger and bigger cliffs. I learned to ski when I was 16 (after I bought my car) by teaching myself at Mtn. High the local resort. The cliff jumping transferred to skiing and I mostly traversed from cliff to cliff.
I know you take partners in the mountains very seriously, as is necessary, was there any early incident that left an imprint on you as to how important that aspect is for success and longevity?
I learned to climb with close friends and boyfriends and I have always treasured the friendships developed by climbing with people you are trusting your life with. I guess this is why I'm so particular about my partners and who I trust to climb with. I see a lot of people with questionable belay techniques out there.  I wouldn't just trust everyone.
Traveling in the winter is big for you, and I'm sure sometimes it's tricky to finance that. Tell us about the highway job you did a few years ago.  Is that the most physically demanding job you have had? Was there any fun in it for you or was it strictly about the money?
It's true, I do like to travel and climbing is a great way to explore new places or return to the mountains and cliffs that capture your heart.  I'm basically camping when I'm at home with no electricity or running water, so traveling, living on the road and camping come easily. I try to work half or less than half of the year to pay for adventures the other half.  Yes, the highway job was the hardest blue collar work I've ever done.  We went to work at 8 pm and finished at 8am. We hung on ropes and scaled or pry bar rocks off the cliff all night long. My hands would scream in pain when I tried to sleep in the day. It was good money and I was working with my partner, Tim and a group of fun people which made it bearable.  There was definitely a sense of satisfaction when you got a huge chunk to dislodge and spark up the shipping containers blocking the highway.  I do quite a few ridiculous and slightly dangerous things for money.  Tim and I worked a TV show where we did 12 hour shifts underground in caves and mines walking around labyrinths with night vision.  Definitely, my favorite job is guiding Heli skiing with Valdez Heli Ski Guides.  I haven't missed a season in over 20 years.  Might be time to stop counting or people might think I'm OLD!!
I read a little about your trip into the Alaska Range that was supposed to be a quick one and you ended up getting stuck for a week.   Did you have any communication with the pilot that was supposed to come for you while you waited?  Any lessons learned, things you do different or additional gear you carry after that?
Leighan is pretty shy and asked if I would come with her. The camera team were good friends and we even got my boss, Colby Coombs, from Alaska Mountaineering School to be our cook!  We were only supposed to go for one day, but it wasn't our first rodeo… We looked at the weather and knew it was likely we could get stuck.  We brought extra food and Colby did a great job with our rations. A week was a bit more than we expected and the real crux was coffee.  We were desperate for coffee; the trip was in August or Sept? and the Kahiltna glacier was deserted.  We dug up the NPS cache and were horribly disappointed to find only decaf in their barrel!  We had satellite communication.  We got pretty soggy out there, but it couldn't have been with a better group and I got to take a much-needed break from the pry bar!
Now to the reason we are here…..
So, you want to hear a story? Something about following your dreams and lessons learned along the way. My mind spins from thinking about all the connected stories and adventures that have created my life as it is today. I grew up in Southern California in the suburbs of the Inland Empire, playing ball sports. We vacationed at Lake Powell and my Dad's Utah cabin. It seems like another life, but I stay remotely connected by visiting my family down in the lower 48 every year, using LAX as a launching pad to other countries and driving my Dad's truck back to Utah.
I call Alaska home even though I spend many months traveling through the dark Alaska winter spending my time in sunnier places.
I came to Alaska the year after I graduated from UCSB. 1993. I was trying to be a jet fighter pilot but was allocated a co-pilot position. I wasn't satisfied with this and dropped out of the Air Force ROTC sinking my heart into skiing at Squaw Valley. It was here that I met some amazing people who changed the way I looked at life. The biggest change was my first trip to Alaska with Dean Conway. He was competing in the World Extremes and I tagged along getting the position of forerunner. Insert Quote" He who binds himself to a joy, does the winged life destroy, but he who catches each joy as it flies, lives in eternal sunrise." A girlfriend I met in AK gave me that quote and I often refer back to it as I find it helpful in making life decisions. To me a life that is open to new ideas, input and adventure, brings excitement, laughter and education. I am a creature of habit and I do need a balance. I have had the same routine for many years but tweak it with new places to travel and film work that takes me to neat places.
Back to the beginning of my Alaska experience. I had a mind-blowing life changing experience getting into that helicopter and skiing down incredible untracked Alaska lines. I was addicted and driven to figure out how to do more of this. I met the TGR boys in AK and found myself skiing in Jackson for several seasons, always returning to Ak in March and April. On one of these trips, I was hitch hiking back to Anchorage and was picked up by a gentleman named Dave King. He was a pilot in Gulkana. We talked about the Heli skiing and he told me he wanted to be a Heli pilot. I told him I wanted to be a Heli ski guide. A handful of years later, we both landed in Chickaloon, Alaska. I was a Heli Ski guide and Dave a Heli pilot. This was one of the many serendipitous events of life in AK. With life, comes death and with adventurous life, death seems to come even quicker. Dave died last year in a Heli Crash. I've been in a Heli crash. Somehow, we landed upside down and no one was hurt. Life is a funny thing like that. You never know when it's your time to go.
I love camping. It's the one thing I can say I'm actually good at. I basically live a glamping lifestyle. My cabin is in the woods without electricity. We have an outdoor shower and the best rock collection outhouse in the world. I don't owe money and my taxes and bills are quite low. I live in my converted school bus during the Heli season at The Tsaina lodge. It's a glamping upgrade with electricity and hot showers in the lodge for March and April. I like the balance of the serenity of cabin living mixed with the intensity of Heli Skiing.
Every good story that I can tell you also comes with a story connected to death. I'm not yet 50, but I have lived long enough to know that tomorrow is no guarantee.
When you think more about actually living because time is limited, you begin to value the things that matter the most. LOVE being the first and foremost. I am lucky to have loved with all my heart and be loved and committed in matrimony to my soulmate, Tim Stephens. The heart is a fragile muscle. It is pumping blood to Live Life. Follow your Heart. My heart tells me to go outside, be in nature, spread love.
Every day, I remind myself that More is More. The more we have, the more money we spend and more time we spend maintaining what we have. I have lived over 20 years in this 12x12foot cabin and I still have propane lights and a wood stove to make it work. More, means less time traveling or more time working, More is More.
FRIENDSHIPS bring happiness to my life. I strive to be a good friend and keep the people I enjoy close to me. Friendships take time. We need to make time to enjoy our friends, because their tomorrow is no guarantee either.
FAMILY. I love my family with all my heart. My Dad died in May of 2012 from Alzheimer's. We miss him. My Mom lives with her Dog. My brother is married with 2 kids. I make time to visit them in California every year. This year is harder with Covid – 19. Visiting our friends and loved ones has turned into a virtual reality which seems so strange. I've been trying to call my Mom every day because the thought of losing her to Covid or other complications and not being able to visit her in the hospital is agonizing.
That brings us to TIME. How are you supposed to have time for following your heart and being with friends and family if you are working all the time? Somewhere there is a balance. This planet is too incredible to miss the opportunity to be in its magical places. To me, the Chugach is truly one of the most magical places I've been. It captured my heart so many years ago and still gets me excited. My goal is to live simply, love with all my heart, and follow it to the next adventure.
This lifestyle comes with no guarantees for the future, but what does the future guarantee? I'll likely have to work to the bitter end, but that might not be so bad considering that I'm very much enjoying life right now and hard saying when the bitter end is. People get really caught up in the world of consumption, including me. It's easy to get in over our heads quickly. It is so normal to borrow money and create a life sentence to paying it back from education to credit cards and home loans and all the things we think we need to have. The new phone, computer, rock gear, the endless list of wants. More is more. This is a daily struggle. I like to make two lists. The Want List and The Need List. Finding happiness is generally deeper than your pockets. I find it mostly by just being outside, being with my husband, friends and family. These cost the least, yet we get so consumed with the wants, the bills, the work it takes to make all the ends meet that we find it hard to have the time to spend doing what actually makes us happy. We all have to work in some way. The goal is to find some work that makes you happy.
Full article on www.livingyourpassionlyp.com