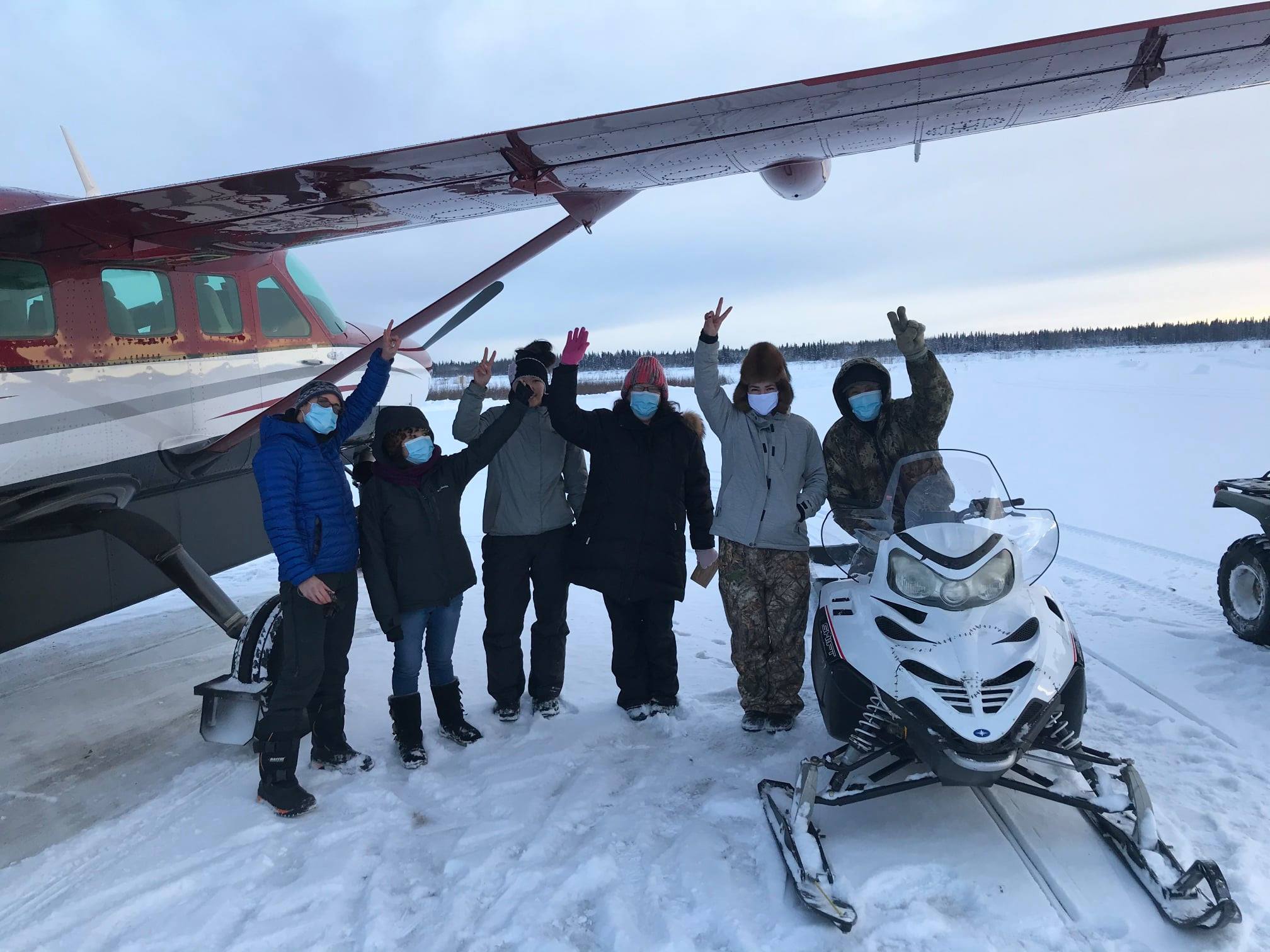 Courtesy Yukon-Kuskokwim Health Corp. 
---
(Bloomberg CityLab) — In much of the U.S., healthcare workers are involved in a delicate dance: making sure they defrost coronavirus vaccines at just the right time so the serum doesn't get too warm, rendering it useless before it can be used. Alaska health official Dr. Ellen Hodges has the opposite problem.
As she sat on a frozen runway in the back of a small, single-propeller airplane during the state's first round of jabs, Hodges had to tuck doses in her coat to keep them warm enough to be administered.
"The wind chill was probably 25 below, and that causes the vaccine to freeze in the metal part of the needle," Hodges says.
Hodges is chief of staff for the Yukon-Kuskokwim Health Corporation; she's responsible for getting the vaccine to roughly 50 remote villages in southwestern Alaska. Spread out over territory about the same size as Oregon, the village populations range from 10 to 1,200 people, the majority of whom are Indigenous.
Bigger than Texas, California and Montana combined, Alaska is a vast, sparsely populated, and largely roadless state, with only a handful of main arteries. To distribute vaccines, doctors and nurses statewide have had to rely on a wide range of transportation modes, including boats, bush planes and ATVs. Hodges has been pulled into some remote communities on a dogsled behind a snow machine. That's fitting: Her operation is called Project Togo, after the lead sled dog who helped transport medicine across the state to end a deadly diphtheria outbreak in Nome during the 1925 serum run.
Despite its lack of transportation infrastructure, challenging geography and brutal winter weather, Alaska currently ranks first in the U.S. for number of vaccinations per capita: 15% of its population has received at least one shot.
Part of the reason Alaska's vaccination program has been more successful than those in more densely populated states is simply because they have received a higher allocation of doses, thanks to greater numbers of Indigenous residents and military personnel.
The Department of Defense, Veterans Affairs and the Indian Health Service each get an allocation separate from the state. Currently, the state has a tiered allocation process with medical workers and those 65 or older currently receiving inoculations. But the DoD, VA, and IHS have more flexibility with how to handle their doses. In remote communities with almost entirely Indigenous populations, for example, it makes more sense for IHS to cover an entire village in one trip (particularly along the Aleutian chain, where a single flight can cost up to $17,000).
Alaska also worked with the federal government to be treated like a territory, which allows the state to get a month's worth of vaccine supply, as opposed to a weekly allocation, according to Dr. Anne Zink, Alaska's chief medical officer. "It makes a tremendous difference in getting to our communities much more easily," Zink says. "Having that vaccine upfront allows us to work through logistical challenges of getting to more remote areas."